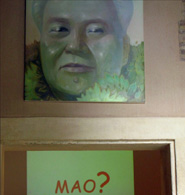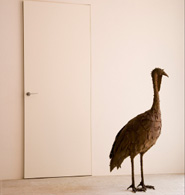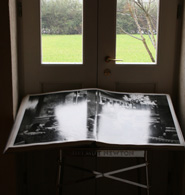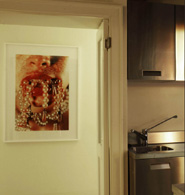 Rest in Art. Art in Rest

Contemporary Art at Relais Ca' Muse. The structure of Relais Ca' Muse has been conceived as
an ideal space for inspiring guests with contemporary art installations, video projections and paintings
from artists such as Marina Abramovic, Dieter Appelt, Alain Clément, Hugues Decointet, Marco Del
Re, Caio Fonseca, Maria Friberg, Ori Gersht, Claus Goedicke, Lori Hersberger, Ursula Hodel,
Leiko Ikemura, Micha Klein, Elena Kovilina, Julian Laverdiere, Vincent de Marly, Vik Muniz, Marylin
Minter, Marcello Mascherini, Maurizio Nannucci, Arnulf Rainer, Georges Rousse, Xiao Fan Ru and
Lydia Venieri among others.

For those fond of Accidental Art, Relais Ca' Muse hosts what could possibly be the largest accidental
painting on canvas, performed in Harlem by Puerto Rican house-painter José.

Relais Ca' Muse also organises guided visits to the Biennale of Contemporary Art which takes place
in Venice, from from mid-May till November of every other year (odd numbers).

Exhibitions. Relais Ca' Muse is also active in promoting young artists. Events include receptions and
press conferences along with the exhibition of the artist's work in Relais Ca' Muse dedicated spaces
within the villa.

Architectural visits.The program offered by Relais Ca' Muse may include visits to some of the
most famous architectural sites in the Venetian region, mostly representative of the Neo-Classical
style, initiated by Andrea Palladio and developed by its numerous disciples. Exclusive lunches
are organized at some of the most spectacular villas, hosted by the owners.

Theatre and Opera. The Palladian Olympic Theatre in Vicenza is the oldest covered theatre in
the world and offers a quite extraordinary and unique setting for both opera and theatrical shows from
May to October. The ancient-roman Arena in Verona, only 30 minutes away from Relais Ca' Muse, has
a world known opera program in July and August.

Cooking in Art . Art in Cooking

Cooking lessons. Open to Relais Ca' Muse quests, each cooking lesson takes place in the kitchen
at Relais Ca' Muse, fully equipped with ZANUSSI professional tools and materials.
Participants work on the preparation of different plates which will be later served for dinner.

Wine Tasting. Wine tasting sessions can also be part of the program, at Relais Ca' Muse or in the
ancient cellars of some of the best-known local wine producers.